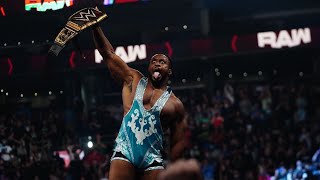 On Raw, Wrestling opened the show with his money in the Bank briefcase as Randy Orton and Riddle made their way out to the ring followed by Lashley and MVP.
Biggie made it clear he intends to cash In tonight to become WWE champion. This confrontation would get heated between parties and ended with the champion and biggie staring down as Orton hid an rko on Lashley. Later backstage biggie was with his new day brethren saying tonight is the night in Kofi's hometown with Kingston telling me has everything it takes to be a great champion. Biggie would even find himself in the locker room of riddle and Orton. Where he wished randy luck while showing off his Briefcase saying he'll be watching his title match closely.
Mr. Money in the bank would once again make his intentions known telling Lashley and MVP backstage that he can't wait to cash in in the main event. Randy Orton faced Lashley for the WWE title after a hard-fought bout Lashley ended up pinning Orton to retain his title. He would then assault riddle which was followed by randy being put through the announce table. Lashley stumbled away with it looking like he Tweaked his knee of course biggie would make his way out with a referee.
The match was announced and Lashley looked uninterested in defending his championship a second time tonight. Following a slap from big e Lashley agreed to the match. The bell sounded and he took biggie to the ground biggie would look for the big ending but Lashley had a spear for a near fall. Biggie would then muscle him up for his finisher and paint him to become the new WWE champion, as woods and Kingston would join him to celebrate two in the night.